shop. donate. volunteer.
NOW OPEN at 1914 Glenn Park Drive in Champaign!
Our ReStore offers new to gently used furniture, household goods, appliances, building materials, and working electronics. Each year, our collective efforts prevent over 200 tons of materials from entering landfills. All excess ReStore income supports our local Habitat home build program. At the ReStore, our prices are firm, but we do offer discounts of up to 75% on items that have been in the store for an extended period of time. We also offer a special 15% discount for Illinois college students with a valid student ID.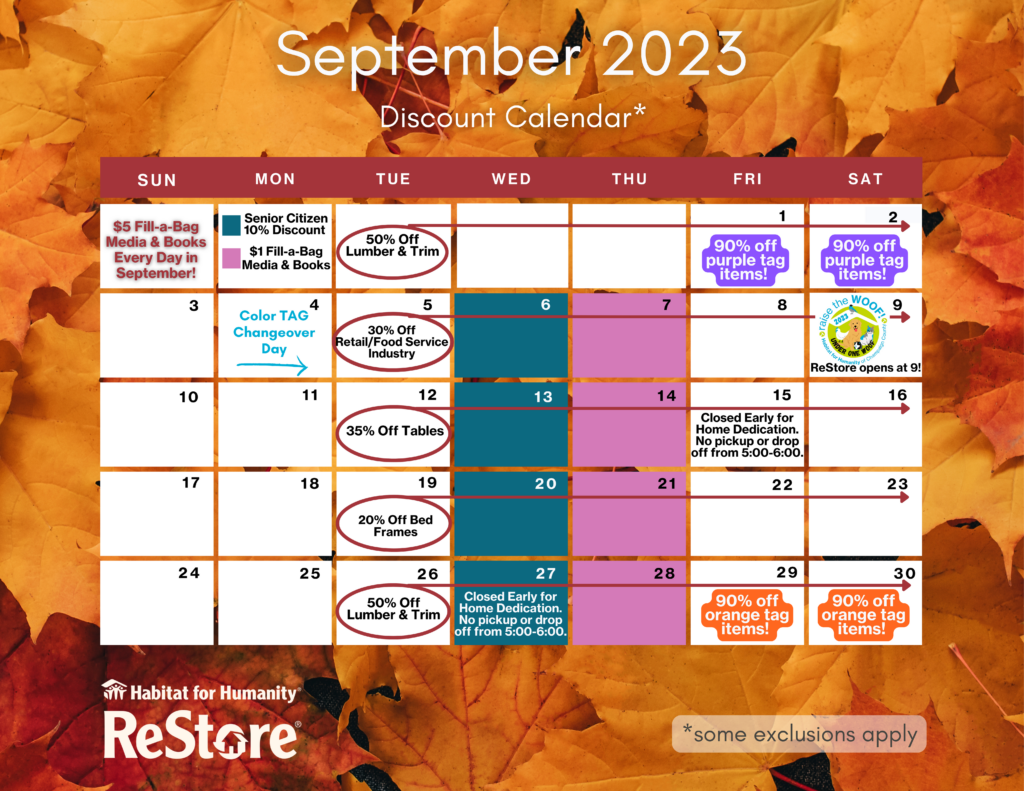 Shop
Anyone can shop, everyone can donate.
Think of the ReStore as a whole new category of retail therapy. It's our way of keeping home goods and appliances out of the landfill, funneling much-needed funds back into the community, and providing conscious consumers with quality items at discounted prices.
At the Habitat for Humanity of Champaign County ReStore, you'll find new and gently used furniture, appliances, cabinets, home accessories, building materials, and more. Proceeds from the ReStore provide funding to Habitat in an effort to eliminate indecent housing in our community and see our neighborhoods thrive.
Volunteer
The ReStore wouldn't exist without our volunteers! They help with processing donations, customer service, pricing, product merchandising, data entry and maintenance.
Volunteer hours are very flexible. Come in for however long you'd like, whenever you'd like. With over 15,000 sq ft of goods we'll always have something useful for you to do. Volunteer Groups are also welcome.
Interested? Call (217) 359-0507 / (217) 819-5118 or send us an email at [email protected].
Donate
Our convenient drive-up donation drop-off area can be easily found at the back of our building; please look for the ReStore signage, designating where to drop off.
Donation Hours:
Tuesday: 10 am-6 pm
Wednesday-Friday: 10 am-2 pm & 5-6 pm
Saturday: 10 am-4 pm
ReStore is now accepting limited pick-up donations with additional acceptability criteria to protect the health of our customers, donors, and staff.
Our ReStore depends on your generous donations. Donating to the ReStore is a great, safe way to get rid of unwanted items in your home without contributing to our already overflowing landfills, and you'll help Habitat build affordable homes in your community!
Please click the link below to view a list of items that we can and cannot accept.
Location
1914 Glenn Park Drive
Champaign, IL 61820
Store Hours
Tuesday: 10am-6pm
Wednesday-Friday: 10am-2pm
Saturday: 10am-4pm
Sunday & Monday: Closed
Habitat ReStore Policies
We accept cash, Visa, MasterCard, American Express, Discover Cards and Apple/Samsung Pay. We do not accept checks.
Unpaid for items may be held for a customer for up to 1 hour. No merchandise may be held before or during special store sales. Lay-away is not available, items must be paid in full.
All sales are final. No returns of exchanges on items with the exception of appliances that have a 7 day warranty. An original receipt must be presented for any exchanges on warranty items.
Merchandise must be picked up within 3 working days. If items are left past their pick-up date, they become a donation.