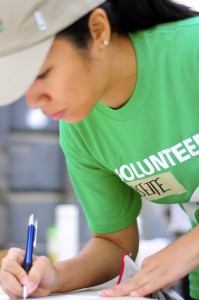 If you have some time to spare and you would like to make a difference in your community and the lives of those who need help, please consider getting involved with Habitat for Humanity Champaign County and its mission to reduce sub-standard housing in our communities. Habitat for Humanity volunteers are distinguished by having that special warmth of charity of the heart. We welcome people from all walks of life to join us as we build relationships and strengthen community through the construction of new homes with qualified low income families. You can be assured, that feeling you get by giving back to your community will last a lifetime.
Volunteer for a home build
Though the vast majority have no construction experience or building skills, volunteers are involved in most phases of construction.By working side-by-side with the family who will live in the house, our volunteers experience for themselves the joy created when a family is able to realize their dream of home ownership.
To volunteer for a current home build, follow the sign-up below or contact Volunteer Coordinator, Kim Gollings 217-819-5110 or outreach@cuhabitat.org
We volunteer on Saturday's from 8:00am-3:00pm. We will provide everything you need for an enjoyable build experience. We would love to see you on the job site. Sign up for any Saturday and we will let you know where to go for the days and the tasks we will be working on!
A safety training video to watch prior to volunteering is available here!
*Enter "On-line safety Training Courses". enter the code given.
*If volunteering on a home build, please choose "Volunteering on a Habitat for Humanity Job Site" on the right hand side.
Volunteer at the ReStore
To volunteer in the ReStore, contact us at 217-819-5118 or restorevolunteer@cuhabitat.org
There is always lots to do at the ReStore! Volunteers check in donations, help customers, stock the store and more. The ReStore is a major contributor to Habitat's efforts and also keeps over 460+ tons of material out of local landfills every year. Before they are allowed to donate their time, ReStore volunteers must first attend an orientation session. After the initial walk-through and informational session, a volunteer can give their time whenever the store is open. Learn more »
Corporate Opportunities
Please consider Habitat for Humanity for your next community service project event at your place of business. We have many opportunities for corporations and local businesses to get involved. Your company team can work on and make contributions to the construction of decent, affordable housing in our communities. We offer company volunteer days reserved solely for your company team, publicity photos and community recognition.
Volunteer on a committee
To volunteer on a committee, contact Community Development Director, Kim Gollings 217-819-5110 or outreach@cuhabitat.org.